Happy Havainas
Wednesday, January 27, 2010
Ooooh!
How is everyone?? :D
Been in a great mood recently, loveeee hearing all the dong dong ching songs in malls!
CNY is coming and Im so excited.

Crazily putting on weight by gorging on pineapple tarts everyday!
Went for a stretchfit class this morning coz I slept so early last night!
Mornings are great for driving, the air smell like dew.
:D

Eagerly waiting for my new Havainas from SLIPPAK.BLOGSPOT!

I wear flip flops all the time becoz I drive bare-footed.
And also its so much easier to go kai kai when Im in flats rather than heels.

Havaianas have always been the choice of celebrities world-wide becoz of their stylish design and great comfort so imagine my delight when I came across SLIPPAK!

I ordered these.
Gold Havaianas
$29 a pair.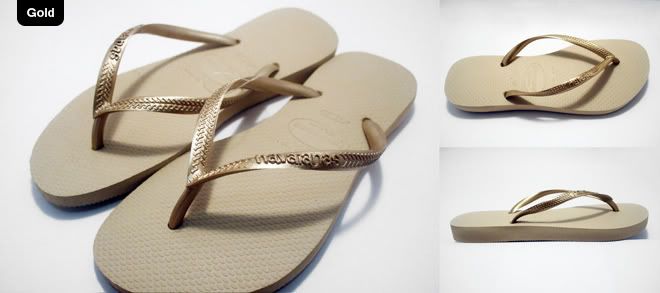 Celebrities and their choice of Havaianas!
I really dig those pink ones too!




And thanks to the kind people of SLIPPAK, they are offering everyone here FREE REGISTERED MAIL FOR 2 OR MORE SLIPPERS simply by quoting elaine73 in your orders!

Absolutely heart these too!
Strawberry Havaianas
$29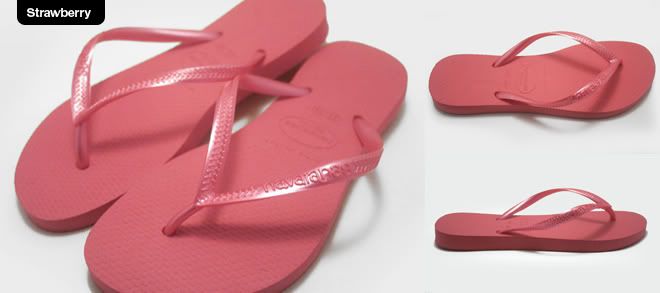 Do remember to take a look!
I love flippy flops..

SLIPPAK
SLIPPAK
SLIPPAK

Im off to go shopping coz Jungle Boy is a big stubborn boy who refuses to go try on anything for CNY!
Sigh.. so Im his personal maid-cum-shopper lor what to do.

But its ok!
Shopping is great for the soul.

Bye everyone!
Love.




p.s At $29 per pair, I do think its a great steal.
Visit SLIPPAK now to grab a pair before sizes run out!

Back soon to reply tags.
I know.. I know Im such a slow coach!
Dun be angry, U know I've read it all.
xoxoxo

:p